GeoFencing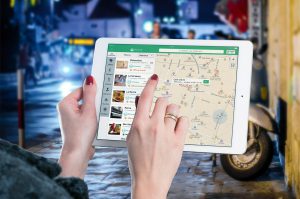 Geo Fencing allows businesses to target customers in a certain geographic location. With our Geo Fencing capabilities, your content will be seen by prospects in the right place at the right time. This technique uses signals from your clients' smartphones to trigger your ads when they're near the location you've selected – like – right outside your door.
For example, if a potential customer happens to be traveling on the same street as your business, Geo Fencing can send coupons and sales alerts that entice the prospect to come into the store.
We can target based on macro and micro areas to engage your customers.
Monitor unlimited locations – Stay informed of key performance metrics for an unlimited number of locations

Reverse Geocoding – Take advantage of key areas you've already determined

Access competitor Geo fencing areas – Gain insight based on your competition

No beacons necessary – Your ads are triggered based on the phone's location, not a beacon's location

Your app doesn't need to be open – Customers see your ad regardless of if your application is active on their devices
Schedule your free marketing assessment.